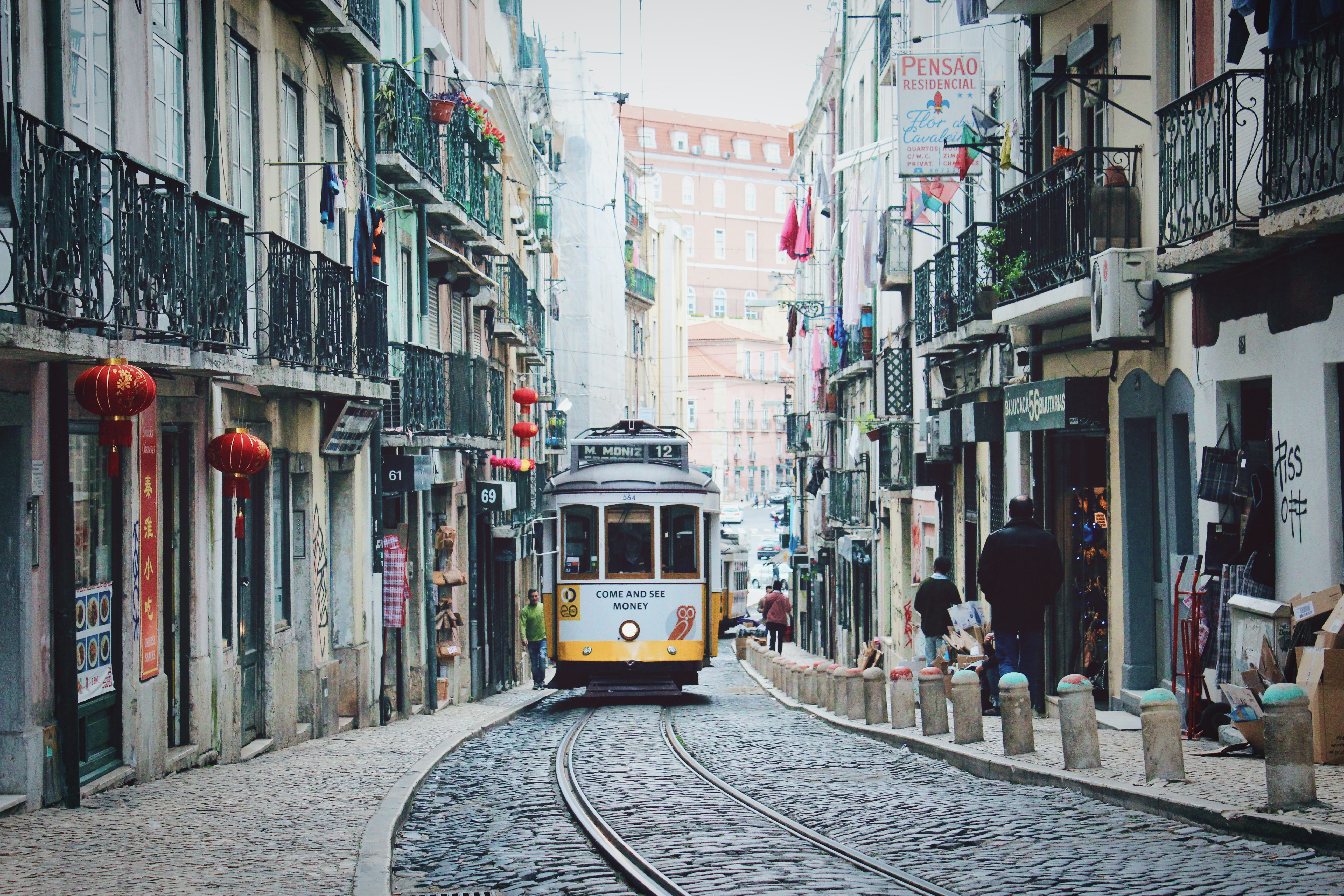 Back
What are the main differences between Porto and Lisbon
So you've decided to study abroad in Portugal, but having a hard time choosing whether you should move to Porto or Lisbon? We get the struggle. After all, these are two of Portugal's largest and most popular cities, and both Lisbon and Porto offer great advantages for your student life in Portugal. So it's perfectly normal to be a little bit indecisive about it.
But you should know that Porto and Lisbon also have a few differences between them, so depending on what you're looking for, you might prefer one over the other.
In this post, we'll help you make up your mind, by breaking down the main differences between Porto and Lisbon. That way, you can wisely choose which one is the best for your study abroad experience in Portugal.
Check it out!
Cost of Living Porto vs Lisbon:
Portugal has one of the lowest costs of living in Europe. And that's actually one of the reasons why Portugal became such an attractive option for students, young workers, and Digital Nomads who want to live in Europe.
Lisbon: For being the capital and Portugal's largest city, Lisbon has a slightly higher cost of living - about 7%- than Porto. Renting student accommodation in Lisbon, for instance, can be much more expensive than in Porto, around 27% higher. And because accommodation is an important part of a student's budget, many prefer to live in Porto. Eating out in Lisbon can also be more expensive than in Porto, mostly because Lisbon is more touristic. But don't worry! If you're a true foodie who wants to find affordable places to eat in Lisbon, it's possible. In Portugal both in Lisbon and in Porto, you can eat super well for very decent prices. In Lisbon, there are many amazing Tascas, which are traditional Portuguese restaurants, that have great meals for 10€.
Porto: As we mentioned, renting student accommodation in Porto can be slightly lower. On the other hand, even though Lisbon is more expensive when it comes to renting accommodation and eating out, Porto is slightly more expensive when it comes to groceries -an average of 6% higher. Costs with transportation are almost the same in Porto and Lisbon, but Porto is a smaller city, and if you decide to live in the city center, you'll be able to walk almost everywhere.
Food in Porto vs Lisbon:
One of the things that students love most about living in Portugal is the food. From North to South, Portugal has amazing typical dishes, and food is a very important part of the Portuguese people's lives. When studying in Portugal, we promise you'll try amazing cheese, super fresh seafood, delicious pastries, and, of course, lots of wine!
We just want to warn you that choosing between Porto and Lisbon based on food is tough competition! After all, both Porto and Lisbon have amazing comfort food that warms heart and soul and pleases the most demanding foodies.
Lisbon: Lisbon is a thriving food hotspot that brings together authentic Portuguese restaurants, with hype, cafés, new contemporary restaurants, and cool bars. With a privileged location on the estuary of the Tagus River and close to the Atlantic Ocean, Lisbon has amazing seafood. In the Capital, you can try many dishes made with codfish, the iconic Bacalhau. For even fresher seafood, you can head over to cities like Setúbal, in the south of Lisbon, to try famous seafood dishes like Chocos Fritos, which are fried cuttlefish. Feel like eating something sweet? Well, you can also try the Portuguese pastries, such as the world-famous Pastel de Nata, heavenly egg custard tarts that cost around 1€. In the mood for some international cuisine? No worries. Lisbon has great restaurants from India, Nepal, Brazil, Mozambique, and Japan, among others. If you're a vegetarian, you'll also find great healthy restaurants and cafes.
Porto: Porto's cuisine goes far beyond the beloved Francesinha. Hey, we're not dissing their traditional sandwich. On the contrary, we believe that you should try it. But just like Lisbon's, Porto's food is rich and varied. Porto is located between the Atlantic Ocean and mountains, and its cuisine reflects the surrounding regions. When studying in Porto, you'll try a little bit of everything, from fresh seafood -like shellfish and clams- to hearty meats and cheeses. One of the words that best describe Porto's cuisine is "comfort", as it gives you a feeling of well-being. But in case you're feeling adventurous, try the Tripas à Moda do Porto (Porto Tripe), their signature dish, which is made with beans, sausage, vegetables, and herbs.
People: Alfacinhas vs Tripeiros
Portugal is also known for being a country of warm hospitality and very likable people, which makes all the difference when you're a student living abroad. But even though we feel like people from all over Portugal are nice and welcoming, some believe that the type of people you'll meet depends a bit on the region you go to. Curious to learn the difference between people from Porto and Lisbon? Or should we say, Alfacinhas and Tripeiros?
Alfacinhas: In English, Alfacinha means "Little Lettuce", and it's a nickname for people who are born in Lisbon. The reason why? No one knows for sure. The first time the word Alfacinhas was used, was in the 19th century by the famous Portuguese author Almeida Garret, in the book "Viagens Na Minha Terra". Some say it's because the Lisboetas used to cultivate lettuce in small gardens in the outskirts of the city. Others believe that, during the battles against the Moors, people from Lisbon had nothing but lettuce to eat.
Some say that Alfacinhas, or the Lisboetas, can sometimes be less friendly than people from the North. But the thing is: Lisbon is a global city, with a more fast-paced lifestyle and a very international vibe, so people there are different but just as nice. In Lisbon, you'll also find large communities of Brazilians, French, British, and Asians.
Tripeiros: Long story short: in the early 15th-century, at the time of the Discoveries, D.João the King of Portugal started to expand the Portuguese horizons and went conquering Ceuta, in Northern Africa. He needed a military force and the people from Porto's not only offered themselves to go, but they also offered the meat they had for the fleet to eat, keeping only the tripes for those who stayed. The voyage to conquer Ceuta was victorious, and the Portuenses are now proudly called Tripeiros. As we mentioned previously, many say the Portuenses are the friendliest people ever, and if that's true, it will surely make your experience of studying in Porto even better.
Lifestyle in Porto vs in Lisbon:
Portugal is a relatively small country, with a very laid-back and peaceful vibe. So when you go studying abroad in Portugal, don't expect the same hectic lifestyle you would get in cities such as London or Paris. Portugal, on the other hand, has a high quality of life and it's the 3d safest country in the world, according to the Global Peace Index. But even though Portugal has a more calm atmosphere, it's far from being boring, and that's why it's the perfect place for students. Portuguese people are very social, and they enjoy eating out, traveling, and sports - especially football.
Both Lisbon and Porto have a lively atmosphere, but each one of them has a unique vibe.
Lisbon: For the past years, Lisbon has been under the spotlight and it became the place where everything happens. First of all, Lisbon has a thriving startup scene and it has been hosting world-class tech events such as the Web Summit. Tourism in Lisbon has also grown over the years, which led to the revitalization of many neighborhoods that are now cool hotspots full of Instagrammable cafes, new restaurants, and boutique shops. Lisbon also has a lively and happy atmosphere, especially in the summer, when bars and rooftops get packed with people from all around the globe. As we mentioned before, Lisbon is quite international, and while walking down the streets, expect to hear many different languages, from Portuguese to French. Lisbon also has great museums, parks, and many leisure options.
Porto: Porto is a smaller city, so even though it is almost as touristic as Lisbon, it is a bit quieter. While Lisbon is more bohemian, Porto boasts a more traditional atmosphere, which is not bad at all. Porto has a rich cultural heritage, so prepare yourself to be fully immersed in history while you get lost in its charming medieval alleys. Did you know that Porto's historical center is a UNESCO World Heritage Site? The richness of culture is one of the best things about Porto, and the city is home to world-class monuments, such as the iconic Dom Luís I Bridge, the stunning São Bento Railway Station, built in the 20th-century, and the 12th century Porto Cathedral, with walls covered in tiles. But aside from all the culture and history, Porto is also home to a youthful population who loves to party. In the Midsummer, there's the Festa de São João, a traditional festival that starts early in the afternoon of 23 June and usually lasts until the morning of 24 June. That sounds like fun!
Location of Porto vs Lisbon:
Porto and Lisbon are placed within 310km from each other - about a 3-hour drive- with Porto being located up North, and Lisbon more to the south. They both have excellent locations in Portugal, but one is close to paradisiac beaches, and the other is nestled among a breathtaking valley. Read below to find out more!
Lisbon: Lisbon is located on the estuary of the River Tejo, and it has Subtropical or Mediterranean Weather, with short and very mild winters and warm summers. Lisbon is the perfect place for beach lovers, as it stretches along the Atlantic coast. The list of amazing beaches you can go to when studying abroad in Lisbon is endless. By public transport, you can easily go to beaches like Praia da Conceição, in Cascais, and São Pedro does Estoril, which are located in Lisbon's metropolitan area. You can also cross the Tagus River and head to Setúbal, and uncover beaches like Troia, for instance. From Lisbon, you can easily go to some of Portugal's finest beaches, like Galapinhos, Ribeira do Cavalo and Praia da Comporta.
Porto: Porto is placed in the northern part of Portugal and it has an oceanic climate with mild rainy winters and warm summers. Porto's location couldn't be more perfect, as it's surrounded by breathtaking mountains and vineyards. A 1.5-hour drive from Porto will take you to the stunning Douro Valley, a UNESCO World Heritage site that happens to be the most ancient wine region in the world, with a history of 2000 years. From Porto, you can go to other stunning places, such as Serra da Estrela, the highest mountain range in Continental Portugal, a great place for skiing and trying the famous Serra da Estrela cheese, made from a recipe with more than 2000 years old. During the summer, you can also head over to the beach with your friends, since Porto is not far away from beaches such as Leça da Palmeira.
Final verdict:
Ok, so which city is better for students who want to live in Portugal, Lisbon or Porto? It depends! Both Lisbon and Porto are equal in charm, amazing food, cool people, and things to do. Lisbon might offer you a more vibrant and cosmopolitan lifestyle, while Porto can be more affordable. You just have to prioritize and see what's best for you.
Latest
---