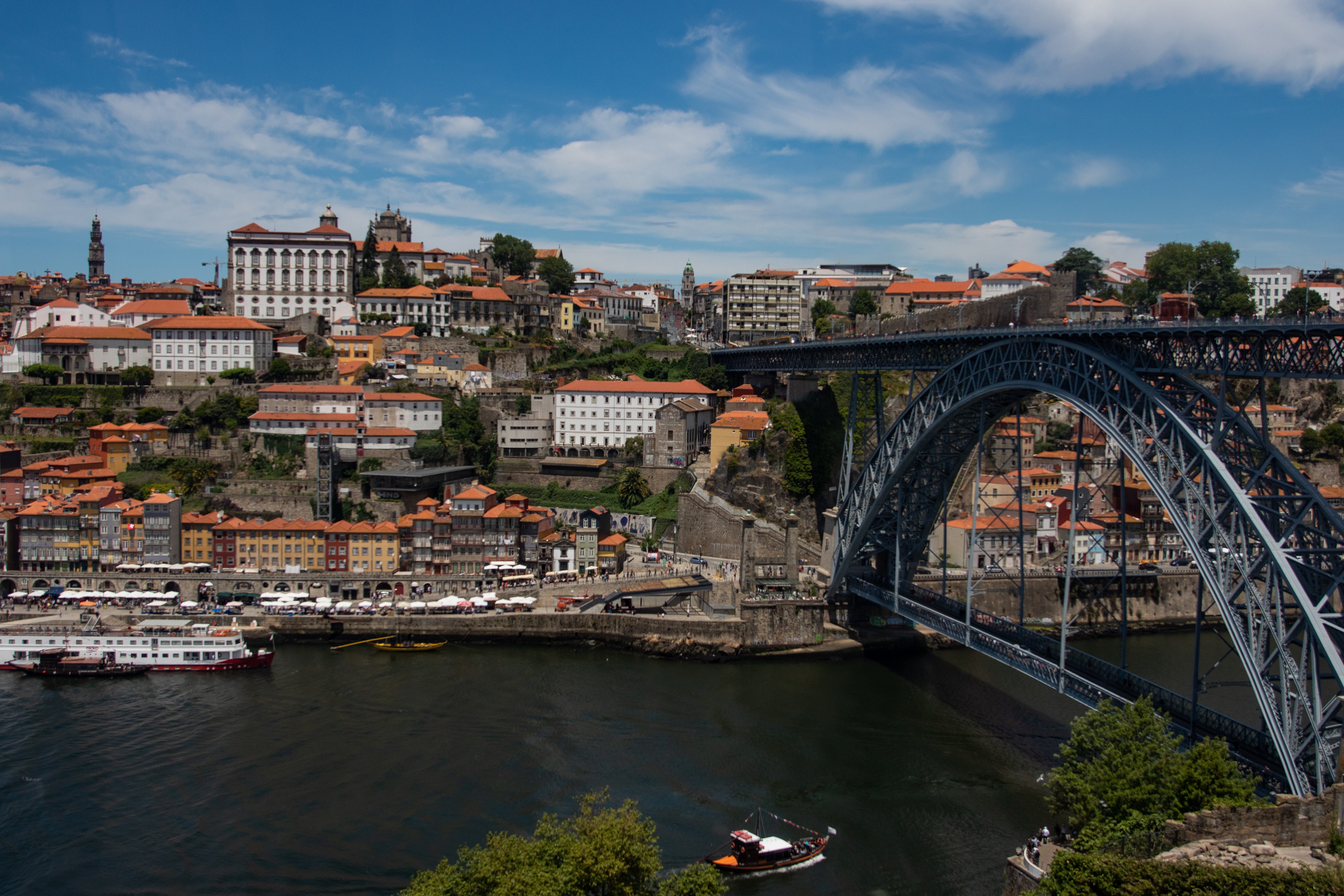 Back
What is the cost of living in Oporto
Located in northwest Portugal, along the Douro river estuary, Porto is famous for its wines and its charming Old Town, a UNESCO Heritage Site home to monumental bridges, and medieval buildings. Although Porto is the second-largest city in Portugal -after Lisbon-, it still carries a small city vibe thanks to its friendly people and a great quality of life. For that and many other reasons, many students and young professionals from around the world choose Porto as their living abroad destination.
With a wide range of great Graduate and Masters Degree programs in both public and private institutions, Porto has become one of the best studying abroad destinations in Europe. Another thing that draws students to Porto is its fairly affordable cost of living when compared to other European cities.
Are you planning to study in Portugal soon and want to know more about the cost of living in Porto? We got you! Here are 7 useful -and updated- information that will give you a clear idea of what you'll spend monthly when studying in Porto.
1. Cost of accommodation in Porto:
The highest cost in Porto is accommodation, even though it's 21.06% lower than in Lisbon. But of course, it all depends on the area you choose to live in. A one-bedroom apartment in the City Centre of Porto can range from 600€ to 900€, while an apartment outside of the centre will cost between 450€ to 600€. If you choose to rent a room in the central area of Porto instead, expect to spend between 200€ to 300€.
Renting an apartment in central Porto will definitely help you save money with transportation since everything is within a walking distance. But if you decide to rent a place outside the city centre, no worries. Just make sure you're located close to metro and bus stations, so you can easily navigate around. U.hub, for example, has studios and suites for students starting at 350 €/month. The residences are located near Porto (Asprela) University Campus, within 5 minutes from Hospital São João metro station and close to several bus stations.
Friendly reminder: Properties in Portugal are always listed as a T0, T1, T2, etc. In case you're wondering what it means, we explain: T0 is a studio apartment, T1 is a 1-bedroom apartment, etc.
2. Monthly utilities in Porto:
So by now you already know what you can expect from the monthly rent cost in Porto. But another important information is the price of the average monthly utilities, which will also be a part of your expenses. The basic utilities such as heating, electricity, gas, water for one person in a 45m2 studio usually cost between 79€ to 90€ per month.
A great tip is to rent a student accommodation in Porto that has all bills included, to avoid unpleasant surprises at the end of the month. There are many student housing options in Porto that offer all-inclusive rent packages. U.hub, for instance, has suites and studios in Porto that include water, electricity, super-fast wifi, and even a cleaning service. This means you can stay hassle-free and enjoy your student life abroad knowing that there are no bills or extra costs to worry about.
3. Transportation in Porto:
As we mentioned before, if you opt to live in the centre of Porto, you'll be able to walk almost anywhere and save money with transportation. But of course, the rent will be more expensive. In any case, you should know that Porto has excellent transport connections, which are very efficient, and cover most part of the city. Plus: they're always on time. For unlimited subway, bus, and train rides, you have to buy a card called Andante for 0,60€ and choose a monthly plan. The Andante Municipal gives you access to 3 different Zones (Porto is divided into different areas) for 30€ a month. If you're a student under 23, you have a discount and that same plan will cost you 22,50€ a month. If you want access to all of the Zones in Porto, choose the Andante Metropolitano, which will cost you 40€ a month, or 30€ if you're a student under 23. A single ride can cost between 1,20 € to 2€, depending on the zone you're going to.
When studying abroad in Porto, you can also use apps such as Uber, Kapten, Bolt, and Cabify. An 8km taxi ride usually costs an average of 10€.
4. Groceries costs in Porto:
When it comes to groceries costs in Porto, it all depends on what are your priorities, what are your eating habits and preferences, etc. But students that go live abroad usually want to stay on a budget and save on the supermarket, so they can save money to travel and go out with friends. Hey, we're not suggesting that you survive on frozen food while living abroad in Porto, but know that if you control your monthly groceries expenses, you can definitely spend more money on other cool things. Students usually spend an average of 110 € to 120 € a month on groceries when living in Porto. Our tip for saving money is to opt for "marcas brancas" products, which in English is something like "white brands". These are the brands owned by the supermarkets, so they tend not only to be cheaper but also great in quality. You can also go online and do some research on each supermarket's website. The most famous supermarkets in Porto are Continente, Jumbo, Lidl, Pingo Doce, El Corte Inglés, Mini Preço and Froiz.
5. Restaurants in Porto:
As soon as you arrive in Porto you'll understand why we recommended you to save money on your monthly groceries. With amazing food and wine, Porto is a true heaven for foodies, and you must try some of their traditional delicacies such as the famous Francesinha. Another great thing is that you can go to great restaurants in Porto for a very affordable price. In Porto, a meal in a Portuguese Tasca will cost you around 9 €, and the portions are always served Portuguese style: big and delicious. For lunch, you can always order the "Prato do dia" which means "meal of the day" in English, or a lunch menu with drink, dessert, main dish, and coffee.
6. Nightlife in Porto:
Going out with friends and enjoying the nightlife plays a big part for people who are studying abroad. After all, it's a great way of meeting new people and making great memories. In Porto, they usually grab a drink and hop from bar to bar until the sun rises, usually in streets such as Galeria de Paris and Rua de Cândido dos Reis. One beer (500 ml), will usually cost around 2.00€.
7. Gym Membership in Porto:
Feeling a little bit guilty about all the food and wine you've eaten so far? Don't be! They are totally worth it and food is a very important element of Portuguese culture. If you feel like you should get your body moving to sweat the stress away when you're days from taking an exam, don't think twice and subscribe to a gym. Porto has great gyms, and the most famous are Virgin Active, Fitness Hut, and Holmes Place. Subscriptions depend on the plan you choose, but they usually range from 30€ to 50€.
Another advantage of living in a U.hub residence in Porto is that you will have access to a free and fully equipped gym to exercise whenever you want!
Latest
---