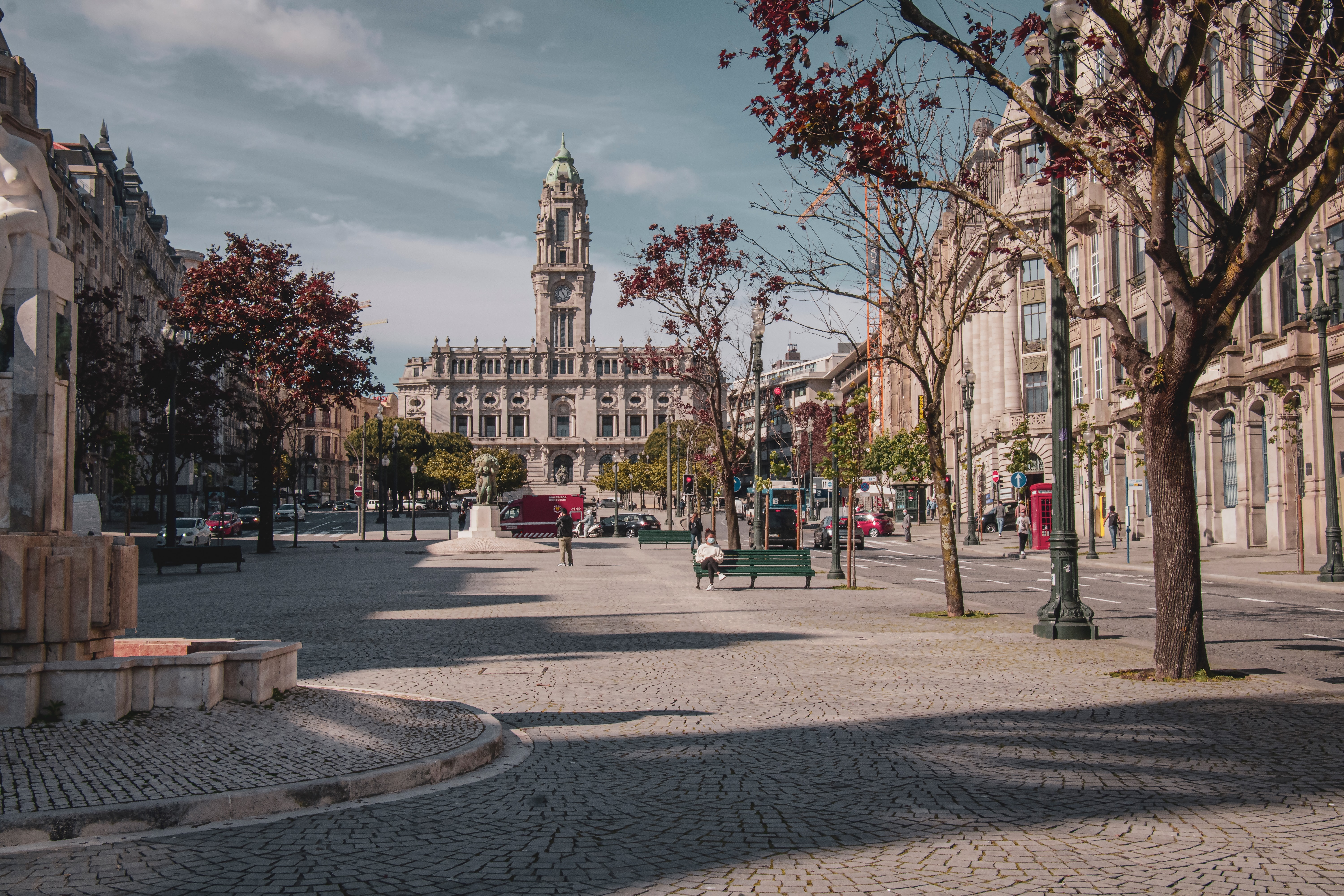 Back
Erasmus in Porto: what you need to know before going
Lisbon is the first option for many students who come to live in Portugal. But did you know that the city of Porto is home to 12.781 international students, and is just as great as Lisbon when it comes to Erasmus? Yes! Porto is home to some of the best universities in Portugal, with top league Bachelors, Masters and PhD programmes.
So if you've decided to do your Erasmus in Porto, we promise you will love it. And to make your life easier before you move, we created a quick guide with useful information you need to know: from how to open a bank account to how health insurance in Porto works.
1. Cost of living in Porto for students:
Porto has a fairly low cost of living, and that's why so many students are drawn to the city. From accommodation to cultural activities and nightlife, there are many affordable options for Erasmus students in Porto. Here's a quick overview of the cost of living in Porto for students in 2022.
Accommodation can be pricey or affordable depending on the location. A one-bedroom apartment in the city centre of Porto can range from 600€ to 900€, while an apartment outside of the centre will cost between 450€ to 600€.
But many students ditch the apartments and choose to rent a room, which is a great option for the Erasmus in Porto. That way, students can live with other people and quickly make new friends. In the central area of Porto, expect to spend between 200€ to 300€ in a room.
Basic utilities such as heating, electricity, and gas vary. But there are great student accommodation options with bills included in Porto, such as the Xior studios and suites. That way, you won't have to worry about any extra costs at the end of each month.
Monthly groceries in Porto are usually between 110€ to 120€ and eating out can range from 5€ to 25€. Meals in the canteens of universities are super affordable and they cost around 2€.
2. Porto ESN Card:
Looking for affordable and fun activities in Porto? Then you should get the ESN Card, which gives you discounts in many places in Porto, such as restaurants, bars, and even airlines. Students with the card can also join ESN's trips, and enter for free in Erasmus parties and pubs.
You can request the card on ESN's website, and it will cost you 15€. The membership card is also accepted as a valid student ID in many other businesses in Porto since ESN is recognized by the EU.
3. Speaking Portuguese in Porto:
Many people who live in Porto speak English, and some universities also offer courses taught in English. But learning Portuguese can be a good idea. We know it's not the easiest language in the world, but it's worth it, especially because this will help you land a job quickly and open many doors for you. And if you're a native Spanish, Italian or French speaker, Portuguese will be easier to learn, since these languages have a few similarities between them.
You can either take Portuguese classes at your University or choose a Portuguese private school in Porto. There are many great options such as Inlingua Porto, Fast Forward, Oficina de Português and Português Comum.
In any case, it's always a good idea to learn a few basic words in Portuguese before you go. It shows people that you're making the effort to communicate with them, and this will be much appreciated.
Bom dia/ Boa tarde/ Boa noite: Good Morning, good afternoon and good evening
Por favor: Please
Obrigada: Thank you
Quanto é: How much is it?
Eu não falo português: I don't speak portuguese
Fala inglês?: Do you speak english?
4. Transportation in Porto:
It's super easy to get around in Porto. From the airport to the city centre you just have to take the metro Line E (Violet), which connects the Airport Station to Trindade station, which connects all the metro networks.
The metro network in Porto, by the way, is very efficient and crosses the whole city. There are also buses, some of them with available WiFi networks. For you to get unlimited trips with both bus and metro, you have to buy a card called Andante, which will give you monthly access to public transportation in Porto. There are two options you can get: the Blue Andante Card and the Gold Andante Card.
The Blue Andante Card lets you pay per single journey, which can cost from 1,20€ to 5,20€, depending on the Zone you're going to. In Porto, there are different Andante Zones, which are areas of the city. This card is better for those who don't use public transportation that often and prefer to pay for single journeys. The Andante Gold card is mainly used for monthly passes, which is great for those who are living in Porto and are constantly taking the bus or metro. There are two options for the Andante Gold Card. The Municipal Card gives you access to 3 zones and costs 30€. If you're a student aged up to 23 years old you'll pay 22,50€. The Metropolitan Andante Card offers access to all of the zones in Porto and costs 40,00€. Students aged up to 23 pay 30,00€.
Friendly reminder: all cards must be validated every time you get on board, and when changing vehicles.
5. The best universities in Porto:
Some of the best universities in Europe are located in Porto. The University of Porto, for instance, is one of Portugal's most renowned institutions, with a variety of courses open to the international community. It's also the second university that receives more foreign students in Portugal - after the University of Lisbon-. In 2020, the University of Porto welcomed 595 international degree students. They have 14 faculties and one business school and offer courses in Architecture, Natural Sciences, Biology, Fine Arts, Engineering, Economy, Arts and more. It's also one of the top 150 Universities in Europe.
There are also other prestigious universities in Porto, such as Polytechnic Institute of Oporto, Fernando Pessoa University and the Nursing School of Porto. Each university has its own list of documents that are required at the time of application, so we recommend you to check on their website before.
6. Best places to live during your Erasmus in Porto:
Finding accommodation is one of the most important steps when planning to live in Porto. We have a blog post on how to find student accommodation in Portugal. Some of the most popular areas in Porto for students are Bonfim, Paranhos, Boavista and Cedofeita. Xior has a residence in Paranhos, where the largest student community in Porto is located. The residence is placed close to the Polo Asprela II, one of the Campuses of Universidade do Porto.
Students who live in Xior residence in Polo Asprela II have many advantages. First, they are located within 3 minutes of the Hospital São João metro. They also have different amenities at your disposal, since Xior's studios and suites are fully furnished and well-equipped. The residence also has many common areas, such as a study room, cinema, a gym, gardens, and other facilities such as on-site laundry, and security 24/7. Plus: all the bills are included, so you can save up on monthly utilities.
7. How to open a bank account in Porto:
When opening a bank account in Porto, you'll get your own card. This will save you from withdrawing money and from paying international fees. It's very easy to open an account in Porto: you just have to check with the bank what's the necessary documentation. Usually, for students, there aren't many requirements, so it should be easy and quick.
Some of the most famous banks In Porto are BNP, Millenium, BPI and Caixa Geral de Depósitos. You can also ask if your university has an agreement with a bank, so you can have advantages and special conditions.
8. Health insurance in Porto:
If you're moving to Porto, make sure you're covered by health insurance. Healthcare in Portugal is one of the world's best, and Portugal has its own system called Serviço Nacional de Saúde (SNS). This system covers many healthcare centres and a percentage of treatment costs.
EU/EEA citizens and students can be covered by their European Health Insurance Card, which allows access to subsidized healthcare on the same conditions as local residents in Portugal. Health Insurance covers visits to the doctor, hospital treatments, dental treatments, eye care, emergencies etc.
Students can also get private health insurance in Portugal, which usually has shorter waiting times, and more English speaking doctors. The most famous hospitals in Porto are Hospital São João, which is the largest in the city and in the North of Portugal, and the Centro Hospitalar do Porto, one of the best in Portugal.
9. How to get a SIM Card in Porto:
Buying a SIM card in Porto is quick and easy. There are 3 major call networks in Portugal: Vodafone, MEO and NOS. You just have to go to one of these company's stores in Porto and buy yours. Prepaid plans of these companies usually vary between 16 to 30€ and most of them have perks for students, such as discounts in restaurants and movie theatres.
Latest
---