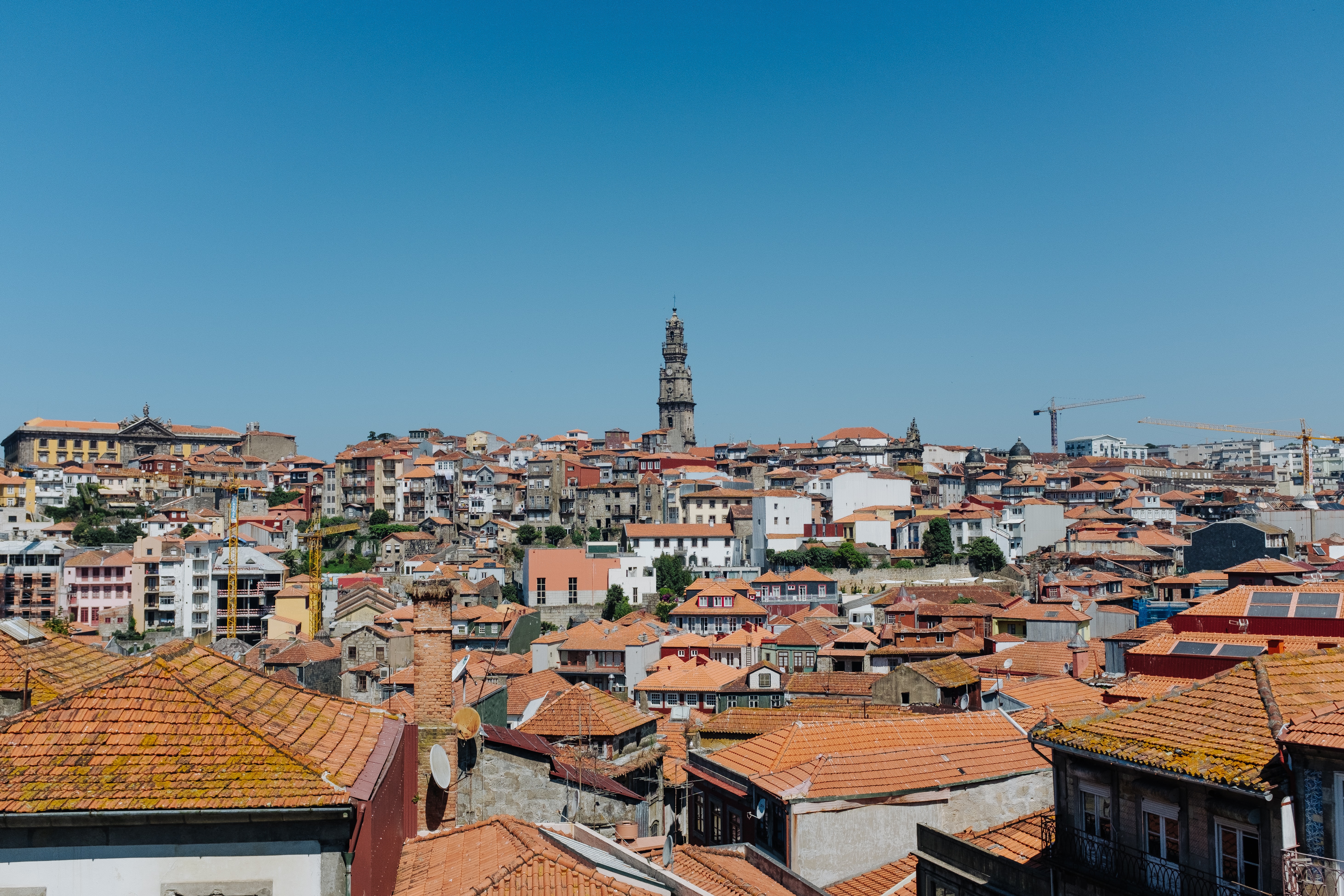 Back
10 amazing things to do while living as a student in Porto
When it comes to incredible things to see and do, Porto has got you covered. Charming, friendly, and well located close to cool Portuguese cities, Porto has a lovely city centre, medieval buildings, baroque churches, monumental bridges, great restaurants and an amazing view of the Douro River. Not to mention it's great weather, which allows you to engage in outdoor activities all year long. And that's exactly why so many students and young professionals love Porto!
Choosing Porto as your study abroad destination is a great idea, especially from an academic perspective. Porto has numerous undergraduate and postgraduate degree programmes, and some of them are even taught in English. Did you know that Porto is home to one of the best Universities in Europe, the University of Porto?
We know that while studying abroad in Portugal, you'll be busy with exams and with work, but during your spare time, don't think twice: go explore the best things Porto has to offer. We've gathered 10 amazing things you have to do while studying in Porto. These will keep you fully entertained and will help you experience the best of the Portuguese culture. Take a look!
1. Climb the Clérigos Tower for a breathtaking view:
Get ready for one of the most amazing views of Porto. This 75.6-metre-high tower is part of a baroque church named Clérigos, built between 1735 and 1748, and it can be spotted from most parts of Porto. In fact, the Clérigos Tower used to be one of the tallest buildings in Portugal. To get access to the breathtaking view the tower has, you'll have to climb 240 steps, but it's totally worth it. Plus: it's a great way to burn the extra calories from all the delicious Portuguese wine and pastries! When you get to the top, you'll be rewarded with a breathtaking panorama of Porto and a special view of the Old Town and the Douro River. The top of the Clérigos Tower is also a great spot for taking pictures!
2. Drink wine in Cais da Ribeira:
Placed on the Riverbank of the Douro River, the Ribeira is one of the most vibrant places in Porto. Colourful and lively thanks to its charming houses placed on the waterfront of the river, the Ribeira is the perfect place for you to go enjoy a warm summer day or watch the sunset. It's full of great restaurants with terraces facing the Douro, which means you can have a delicious meal and wine while enjoying the view of the river. You can also grab a bottle, sit on the banks of the Douro, and wait for an amazing sunset viewing the iconic Dom Luís I Bridge.
3. Take a cruise down the Douro River:
This is definitely an experience you can't miss while studying abroad in Porto. A great idea is to gather a few friends and go to the Ribeira, where many companies offer hour-long cruises for very affordable prices (usually around 15€). If you're feeling fancy, you can even opt for a tour that has wine tasting included. In any case, you'll immediately see that there's something special about the Douro River.
4. Explore Porto's Old Town by foot:
In our opinion, one of the best ways of truly getting to know a place is by freely wandering around and getting lost in its streets. Porto is a box full of surprises, and it has dozens of charming alleys for you to uncover by foot. While living abroad in Porto, you'll have enough time to stroll around, and one of the best places for you to explore by foot is the Old Town. In fact, the Historic Centre of Oporto is a UNESCO World Heritage Site, with a 2,000-year history. This area has a strong identity, and it's home to monuments such as the neoclassical Stock Exchange Building and the typically Portuguese Manueline-style Church of Santa Clara.
5. Go visit the iconic Lello Bookstore:
Considered the 3rd most beautiful library in the world by Lonely Planet, this beautiful bookstore carries more than a century of history. The library as we know it today was opened in 1906 in a beautiful building designed by the engineer Francisco Xavier Esteves. Most people actually go there not for the books but to see the building itself. Its neogothic façade has colourful paintings by José Bielman. Its interior combines the eclectic style and the Art Noveau style, with a majestic ceiling and an ornamented staircase. But of course, Lello Bookstore also has an incredible collection of books, with works by Portuguese authors such as Eça de Queirós, Camilo Castelo Branco and Teófilo Braga. A few years ago the entrance to the Lello Bookstore used to be free, but now you have to pay 5€ to get in. We promise you it's worth it!
6. Plan a weekend trip with friends:
Eager to escape the city life? Need a quick break from exams and work? Say no more! Porto is well located within a short distance of many amazing Portuguese cities, so you can either make a day trip or go away for the weekend with your friends. In the summer, go to Parque Nacional da Peneda-Gerês, which is for sure one of the most beautiful places in the world. Located near the Spanish border, Gerês is Portugal's only official national park, and it's covered with pine forests, rugged hills, green valleys, rivers and pristine lagoons.
From Porto, you can also go to the lovely city of Braga, the oldest city in Portugal with over 2,000 years of history that dates back to the Roman Empire, when the city was called Bracara Augusta. Even though Braga is Portugal's 3rd largest city, it's extremely walkable, so you'll be able to see plenty of ancient buildings and churches that will take you on a journey back in time. Must do in Braga: visit the Bom Jesus do Monte Sanctuary, a UNESCO Heritage Site built in the 18th century. With an amazing stairway surrounded by gardens and flowers, the Bom Jesus do Monte Sanctuary also has a lookout point with a great panoramic view of Braga.
The list of short trips from Porto could go on and on, and you can also include visits to places like Guimarães, Aveiro, Minho, Matosinhos… you name it!
7. Visit the Serralves Foundation:
Many don't know about this place, but the Fundação de Serralves is one of the most important cultural institutions in the world. Located in Foz, a bit far from Porto's city centre, the foundation houses a Museum of Contemporary Art, the Serralve's House, the Casa do Cinema Manoel de Oliviera and an auditorium. Our two favourite places in the Serralves Foundation are the Museum, a modernist building designed by the renowned Portuguese architect Álvaro Siza Vieira, and the 19-hectare park, which is filled with lush botanical gardens and remarkable sculptures.
8. Go to a concert in Casa da Música:
The building itself is already worth the visit. Designed by the worldwide famous Dutch architect Rem Koolhaas, Casa da Música is the first building in Portugal aimed from its conception to be a place 100% dedicated to music. You can take a guided tour of the building, or go see a live concert. Their musical programme ranges from classical to urban trends, and Casa Da Música Houses 4 resident groups: Symphony Orchestra, Remix Ensemble, Baroque Orchestra and Choir.
9. Go to the Crystal Palace Gardens for a peaceful time:
These idyllic gardens are probably the most beautiful and romantic in Porto. Landscape by the french architect Émile David in the 19th-century, the Crystal Palace gardens were developed to complement an ancient palace that was built in the area. In 1956 the palace was demolished and substituted by a semi-spherical and picturesque Pavillion, the Pavilhão Rosa Mota, where events take place. But the garden is the star of the show, with species such as pines, camellias, rhododendrons and beech trees. Oh, and if you are lucky, you'll be able to see some peacocks roaming around. The entrance is free, and overall, the Crystal Palace Gardens are a great place for a peaceful walk, and for great views over Porto, Gaia and the Douro.
10. Last but not least: go do some Port Wine tasting!
As you can see, we saved the best for last, because Port Wine tasting is an experience you can't miss when studying abroad in Porto. Also known as "Vinho do Porto", in Portuguese, that delicious wine is made of distilled grape spirits in the Douro Valley region. The city of Porto is where the wine ages, and then it's shipped from all over the globe. Not by chance, the Port wine is Porto's most popular export, and one of the most consumed wines in Europe. In Porto and its surroundings, there are numerous Port wine cellars that offer guided tastings and guided tours, where you'll try different types of Port, from red to rosé. The most famous Port Wine cellars in Porto are Calém, Sandeman, Porto Cruz, Taylors and Ferreira Caves.
Latest
---